Vella Stats, May
Kindle Vella stats from May!
I had a number of health issues last week, which I'll hopefully have under control soon. Nothing major, just really inconvenient. I'm planning on stopping my allergy shots because they only seem to make me feel worse, including my anxiety.
But you're here for the numbers! You can find the previous stats at this link.
I'll go ahead and drop my bonus for April first–my second best so far!

I made a little less for Fluid Bonding, but Last Train Home doubled its numbers!
My overall stats for last month: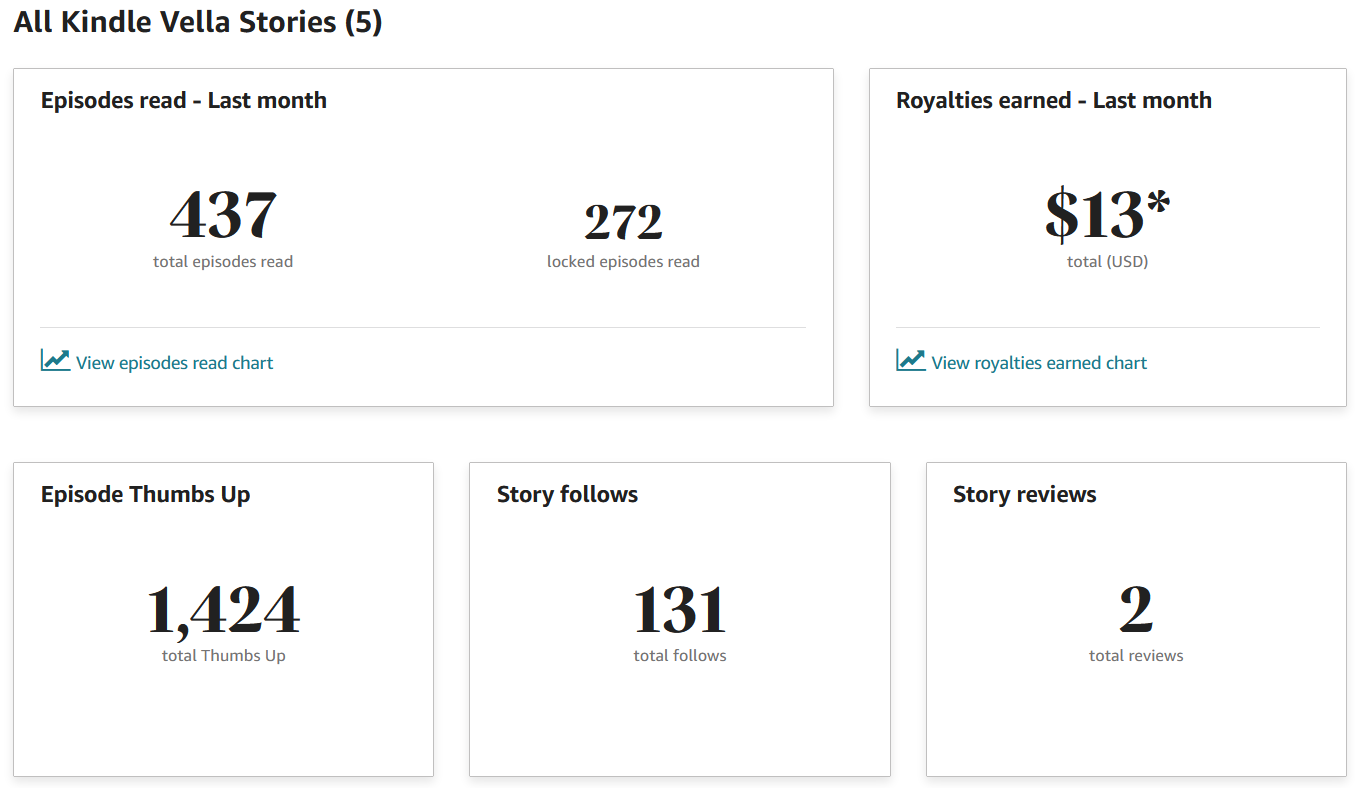 Normally I'd filter out my nonactive stories, but there's no harm in a little transparency. I mostly wanted to show off my totals for my "thumbs". It's a good, solid number. My actual follows is 121 at the moment. And one of those reviews is unfortunately from my first and withdrawn story...I'm still hoping for new reviews, but I'm not holding my breath at this point.
Also, May was officially my best month! April came close.
Anyway, on to the numbers!
Fluid Bonding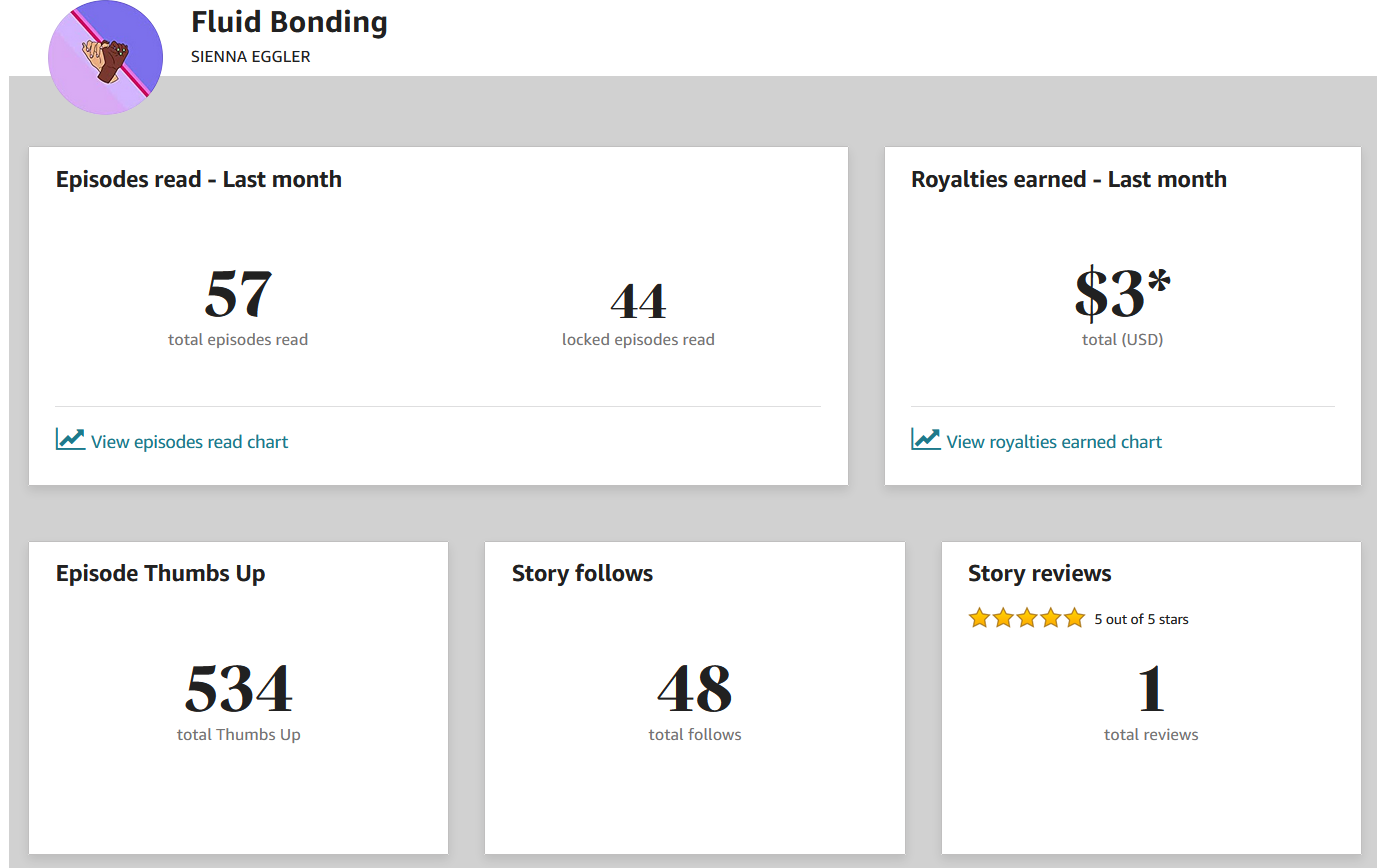 Proud to say that most of reads came from binge readers! Two people binged the whole thing, and a return reader came back to finish up! This is one of the perks to having a complete story; people are more likely to read a finished product. I didn't engage in swaps to get these numbers, but relied more on Bookfunnel and Facebook ads. I believe the ads made more of a difference than Bookfunnel.
Oh, and my new readers were new to the platform, meaning no thumbs and they mostly used free tokens. It's a very good sign, though! I'm going to cool it with the ads for this one, and focus more on my current Vellas. I'm really close to cracking the code.
Last Train Home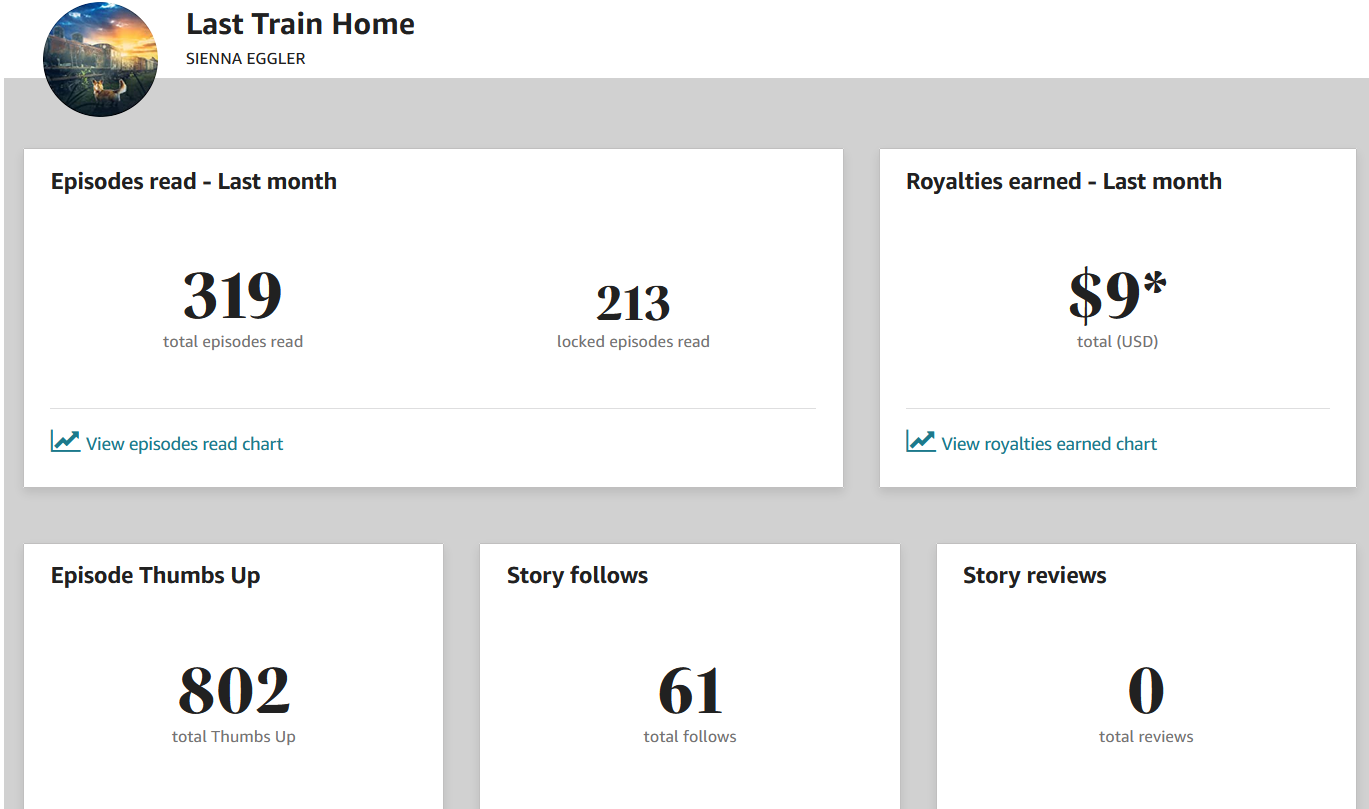 Also happy to say I had more locked reads than free for this one! Really happy! If you check last month's stats, I wasn't wildly successful, but I finally broke the 200 locked reads barrier! That's a big one for me, especially since I came so close last time! Most of these reads weren't organic, I'm sad to say. Should net me a good bonus, though!
The Threads That Weave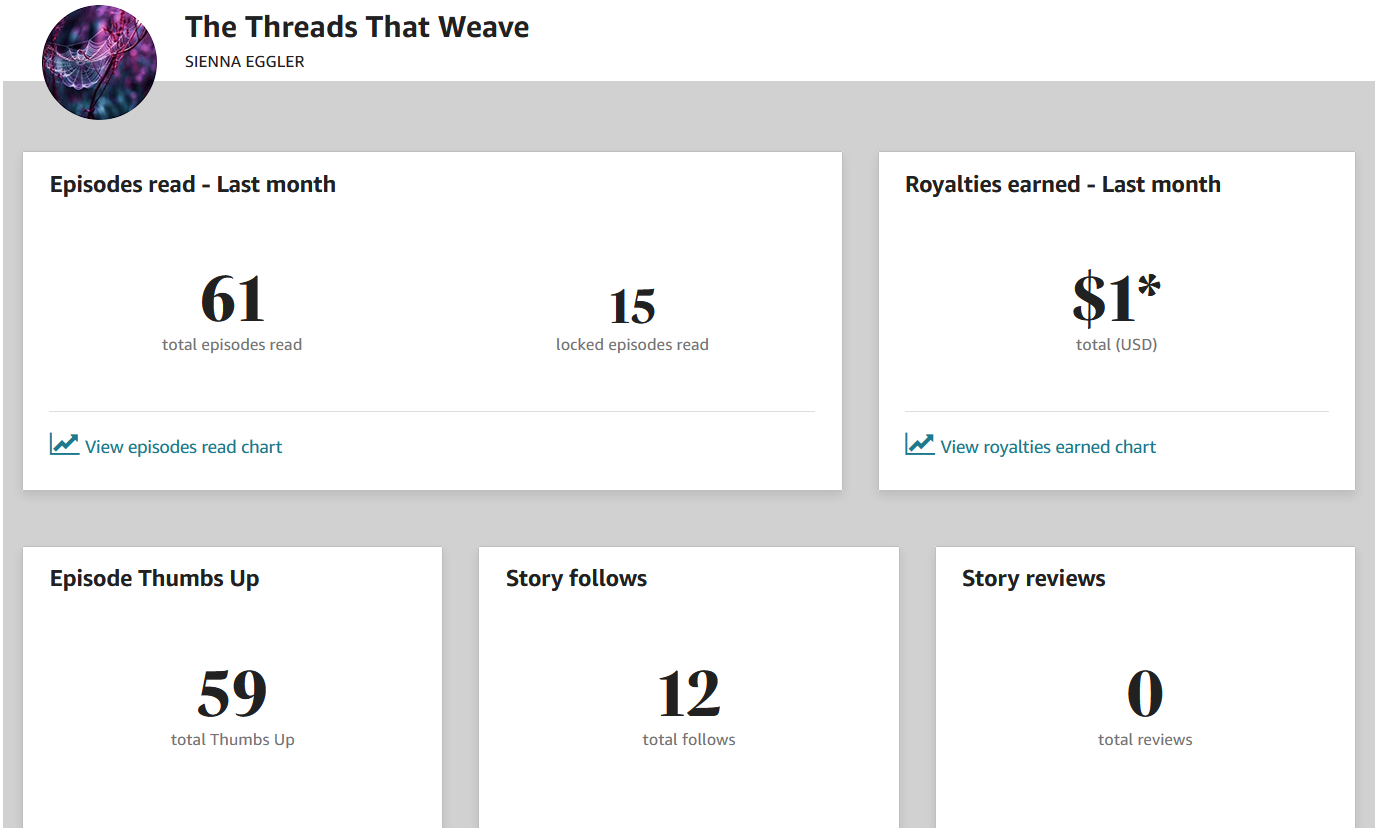 I did some very light promotion with this one, and had a few people initiate swaps when I didn't ask for them. I want this one to stand on its own, especially as it's more of my "weirder" stories. Marketing might be tougher, but we'll see. I also got an indirect compliment on it from S. P. Somtow ("Only 5 eps?"). I took it as him being curious to see more of the story.
But that's it for last month! I'm going to take it easy on the swaps this month, out of concern of breaking TOS (Amazon really needs to be more transparent about this!) and because I actually want people voraciously consuming my content, and not expecting reciprocation. I need to save money while I'm in-between jobs, too...