March Recap 2022
Newsletter from March of 2022. Very Kindle Vella centric.
It's been quite the busy month! I started a new job, reached over 40k on my current WIP (paranormal romance, witches, vampires, etc), and got a nice bonus from my Kindle Vella stories. But I'll save that for last!
I wrote several posts this month, but they may have gotten buried by my Vella updates. Thankfully, this won't be much of an issue in the future, as I'm making an adjustment to my schedule. I'm also debating on moving my free posts to a different day, like Wednesday or Friday. But Thursdays just feel right, ya know?
Kindle Vella: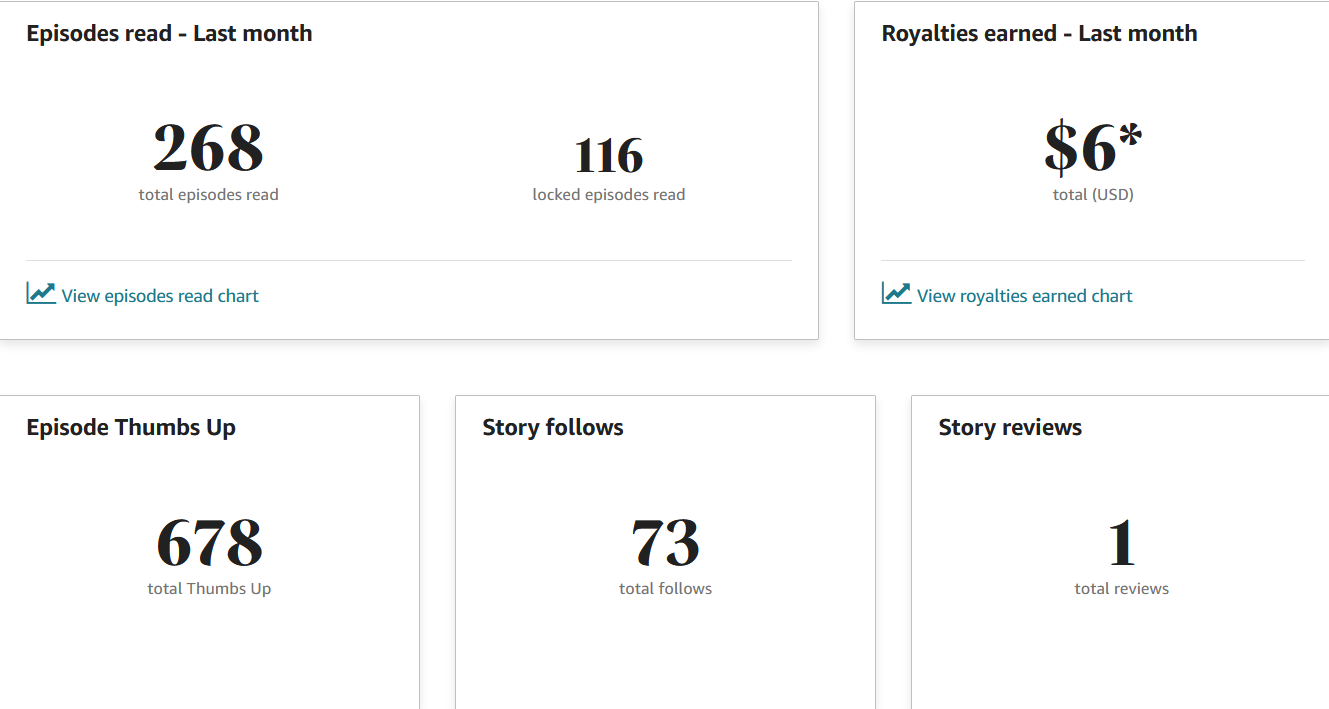 You can find February's stats here. Some of the key differences are as follows: 26 reads, 21 locked reads, and $6 in royalties (Fluid Bonding had more expensive episodes).
I had a pretty good month, all things considered! I don't track my thumbs up as much as I probably should, but I had 238 for that month (the total shown here is overall, sadly). Got a few more followers too, which is exciting! Mostly for Last Train Home. Went from 11 to 27!!!
Fluid Bonding
I didn't promote this one as much, as I wanted more eyes on my active story. I did get a decent number of reads and likes, and even participated in a March Madness event hosted by another author on FaceBook. I didn't advertise myself among friends and family, which might have hurt my chances (apparently it was pretty even across the board), but will definitely do so next time the opportunity presents itself. I was just happy to be involved and get more eyes on my work!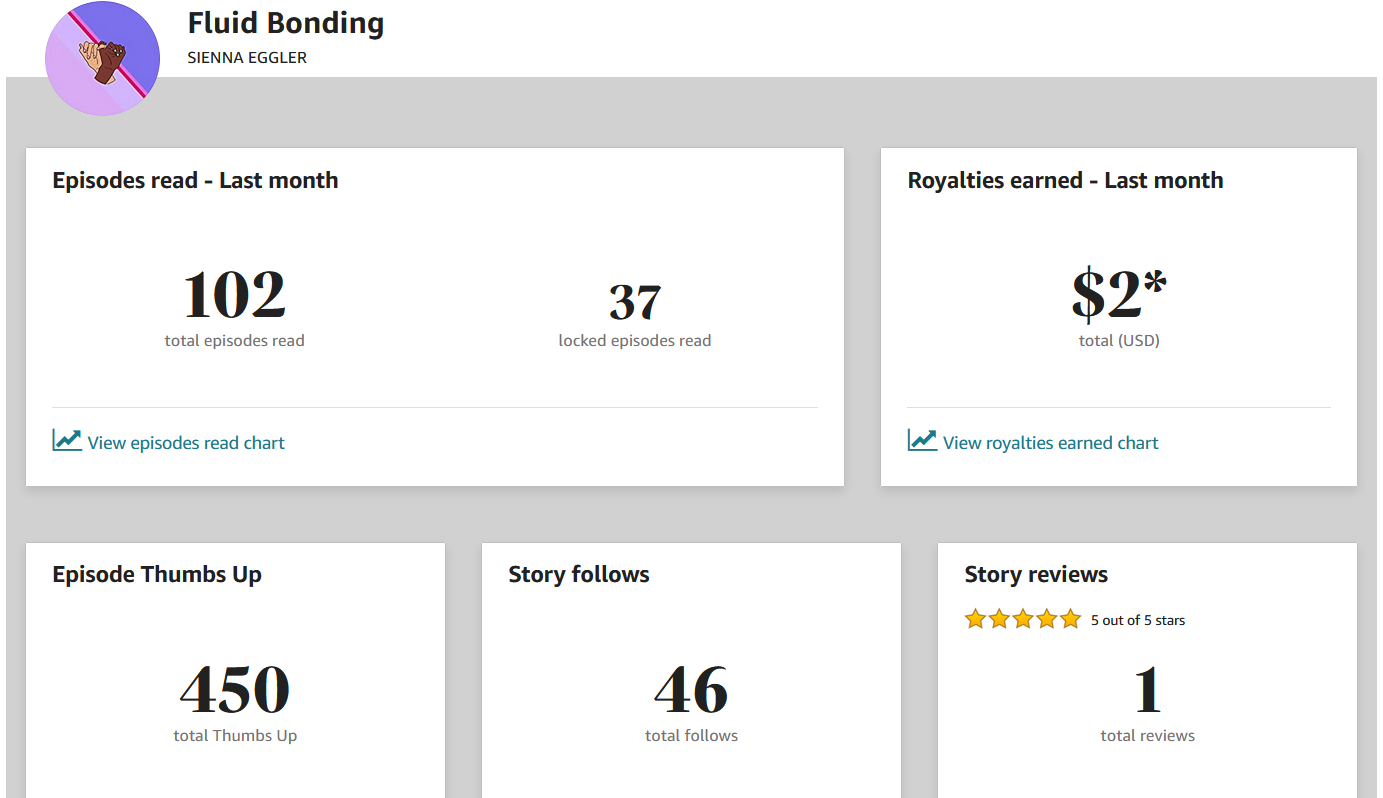 Last Train Home
I had better success this month, mostly due to promoting it on Facebook groups. Not my favorite method, but organic reads are sadly hard to come by at the moment. And it would be nice to get a bigger bonus… I was fortunate to have two new readers binge read the first seventeen episodes! I think having shorter episodes will work in my favor; the small fee isn't as daunting as they were for Fluid Bonding.
Aside from that, I'm changing the publishing schedule. Future episodes will be published once a week, on Thursdays. I'm getting swamped by my job, and want to devote more time to my WIP. I'll try to make episodes longer to make up for this new change, but will try to keep it under 15 tokens (or under 1500k words).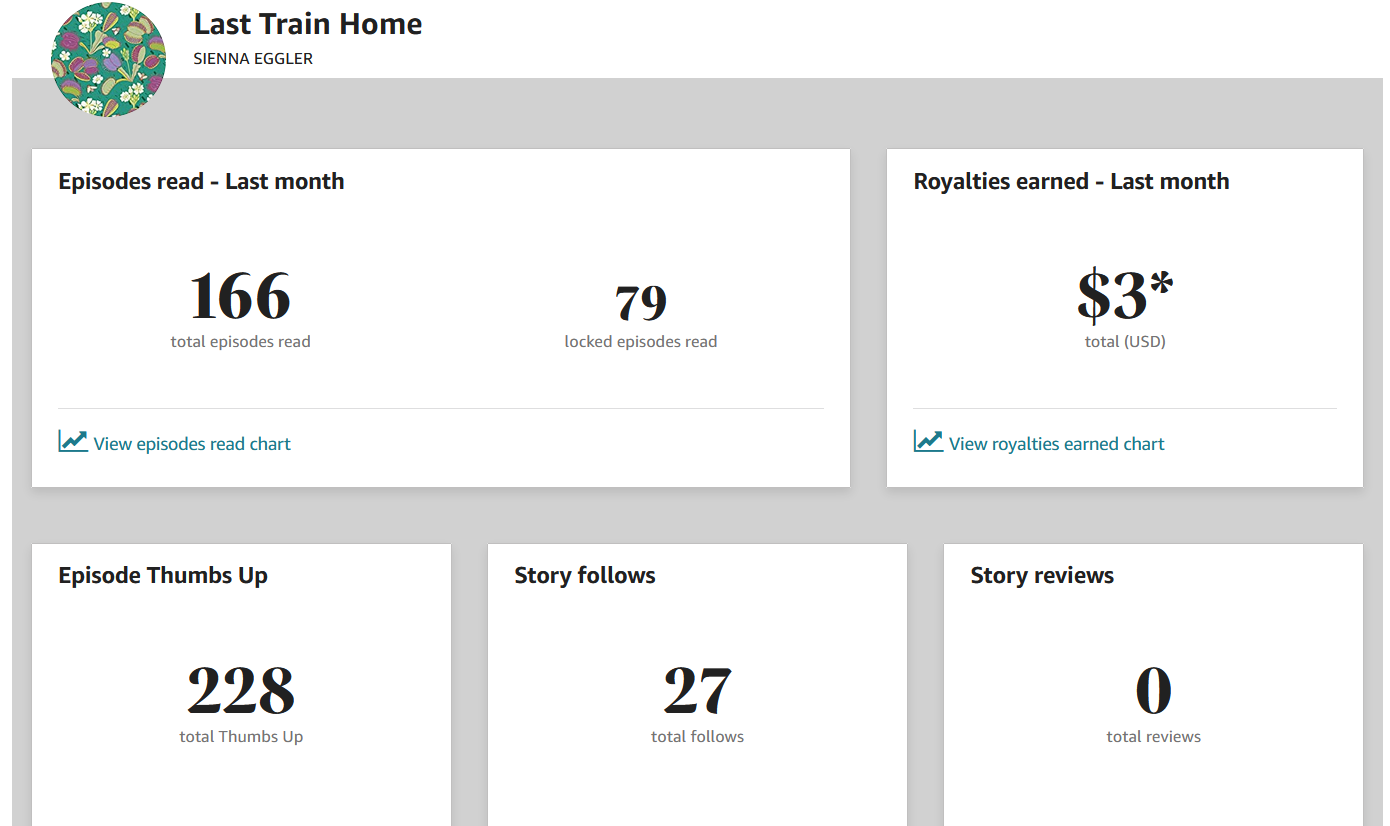 Bonuses

I knew February was going to be my best month by far, but I wasn't quite expecting this! $172.85 for Last Train Home, $335.07 for Fluid Bonding, for a total of $507.92 (Or closer to $520, if you count royalties)! It's amazing; another Vella author once said how the platform was lifting authors out of poverty, and I can somewhat relate now. This is definitely enough to cover my share of rent. I'll be putting this money aside for a cover for my WIP, and the rest towards future taxes.
I was always worried about making money off my work, but this experience has given me hope. Marketing is hard, yes, and finding my audience even harder, but I've learned so much these past three months!
I'm going to invest in more Facebook ads, once my new cover for Last Train Home is updated, along with the promotional art I requested. Yes, that's right – I commissioned a new cover from Miblart, and I'm excited to show it off! It'll really help attract my audience. Now I just gotta do the same for Fluid Bonding!
And for those curious about my WIP, I made a graphic for one of my favorite scenes between the MC and their future girlfriend. I didn't want to gush about the story because that would've made this post longer than I would've liked, but I will for sure make a post about it later this month, as I near the end of my draft.