Backlog Update #3: If Alexa Offered Therapy
Going forward, these updates will be posted once a month, at the beginning of each month. That being said, I knocked a decent chunk off of my list!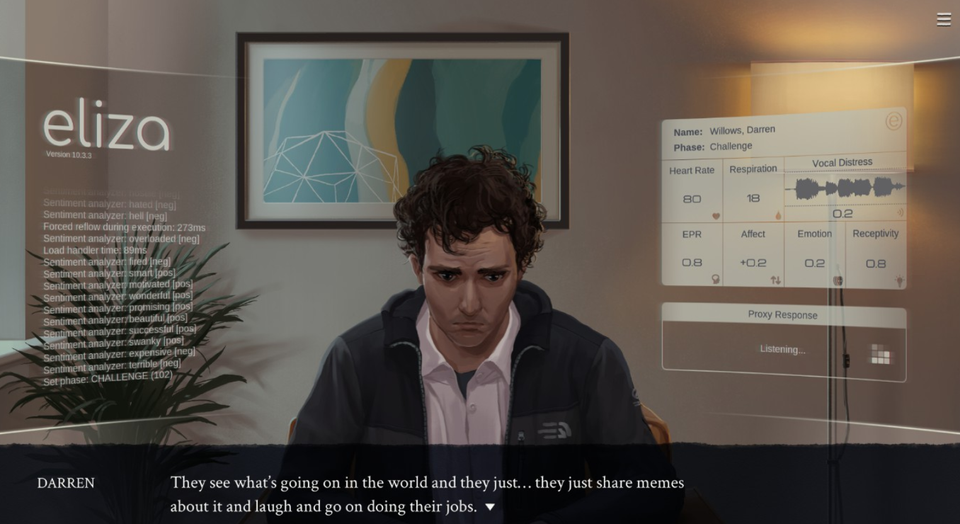 Going forward, these updates will be posted once a month, at the beginning of each month. That being said, I knocked a decent chunk off of my list!
Cafe 0 ~ The Sleeping Beast ~: It had a good premise, but that's all I can say for it. It just felt really drab and vague about the important details. I only bothered "finishing" it to get all the achievements and Steam cards.
Eliza: Loved this one! While I still have my doubts about a virtual assistant type therapy program, I loved how they explored the issues with it by putting you in the front seat and experiencing it firsthand, though Evelyn. I also heavily related to many of the characters you get to meet in the therapy sessions. Especially the anxiety ridden Maya. And while it's a "small" part of the game, there was a take on Solitaire I wasn't familiar with. It was easy to get sucked into it.
Frostpunk: Difficult and unforgiving, but interesting. I got bored of it after an hour or so, unfortunately.Satellite Reign: This was just bad. Really clunky and disappointing, as I do love cyberpunk. I dropped it after ten or so minutes.
Gahkthun of The Golden Bell: When I first started this one, I loved the world building, and I'm not someone who normally cares for steampunk. But all the steam engines and then Arts used by Nikola Tesla (yes, it's one of those types of games) had me engaged. I also appreciated the art, and had my favorite characters. What turned me off from the game was how the genderqueer character (who I still like to think of as a trans man) was treated, and then the lengthy tentacle rape scene of a strong female character in chapter six...I had a LOT of issues with that chapter, as the writer (despite being female herself), used the violation of that character as a means of overcoming a previous trauma and making her "tougher".
That just felt like a shitty excuse to me. There are far greater ways to accomplish that without subjecting someone to rape. I would have liked to see her face her fears in other ways, one where she doesn't have to be humiliated.
Orwell; Keeping an Eye On You: Really engaging! Playing a government agent and spying on citizens was an interesting take, especially with my ability to mess with the outcomes. I could either mark someone as a threat, or let them fly under the radar and evade capture. Also made me wonder about my own privacy online...
Serial Cleaner: This was fun for the first fifteen minutes, but got stale really fast.
Simulacra: A very interesting game...you find someone's phone and have to figure out who they are, etc. I've played similar games in the past (like A Normal Lost Phone), but this one brought horror elements and a real need for urgency. The owner of the phone's life rests in your hands.